We love capturing moments of breakthrough and hope within a person's journey with God. Yet it's just the beginning. It is encouraging to check back in and see God continue to transform them!
Craig's story was originally captured in video in 2011. Theodyssey gave him the courage to embrace who he was created to be instead of what he thought others desired from him. A new season of "being" instead of "doing".
Please watch Craig's Story.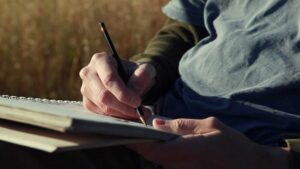 A big step in that journey was taking art classes at a local community college.  We asked Craig a few questions to find out how art has shaped him since that initial class.
How do you sense God's presence in the midst of creating art and how does He use the process to transform  you?
I am fortunate that I can spend as much time as required and explore ideas with my drawings. Some drawings require more than a hundred hours and I am continuously reminded that it is about being present and not the production. Most pieces are an act of worship or meditation. Ideas come from many places: scripture, my brokenness, my redemption through Christ, or trying to understand the stirrings inside of me. Spending hours putting marks on a piece of paper is how I create space to become attentive to God's invitations, where God reminds me of who I am, and who He is. It is here that there is great freedom from having to "measure up."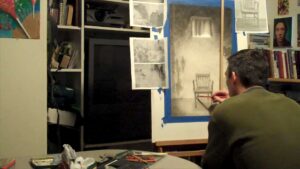 You have recently started an Instagram account and entered your pieces of art into contests. Why is that a big step for you?
As I have developed and grown as an artist, I have sensed an inner calling to use more of my time to create art. I am also starting to truly believe that I have value to share through my journey, both struggles and victories, and how God has been present through all of it. My hope is that my story, expressed through art, may encourage someone else. That it would create desire to explore the possibilities of a God who dreams bigger than we can imagine.
At some point you need to invite people in and let them see the real you. For me, it was about putting my work out there by starting an Instagram account and submitting my work into local contests and exhibitions. I was now putting on display some very personal aspects of who I am as well as inviting people to judge my abilities. It was incredibly scary, but I had a strong belief that God was for me and was pleased.
Please describe the story and meaning of the artwork that is featured below.
The latest competition I submitted work into was also the largest one I have entered. The Salon at the Triton is a state wide competition and exhibition attracting some very talented artists throughout California. It was also being shown in a museum and juried by the director of the Monterey Museum of Art. This year's event had over 1,450 entries in various categories with only 124 pieces being selected. I submitted three pieces and was excited when one was selected. As I considered what this means for me I got a sense that God was calling me to open up and tell people. So I did something I haven't done before: I invited everyone I could think of to the opening reception. I am truly humbled by the love of the people around me and I am still wrestling with receiving such a blessing.
The drawing that was selected is done as a traditional still life and is technically about composition, forms, and values. The aspect of each element having a "paper" covering was also very interesting. All of this leads to the meaning, which is; who am I, the masks I wear, and who do I want to be?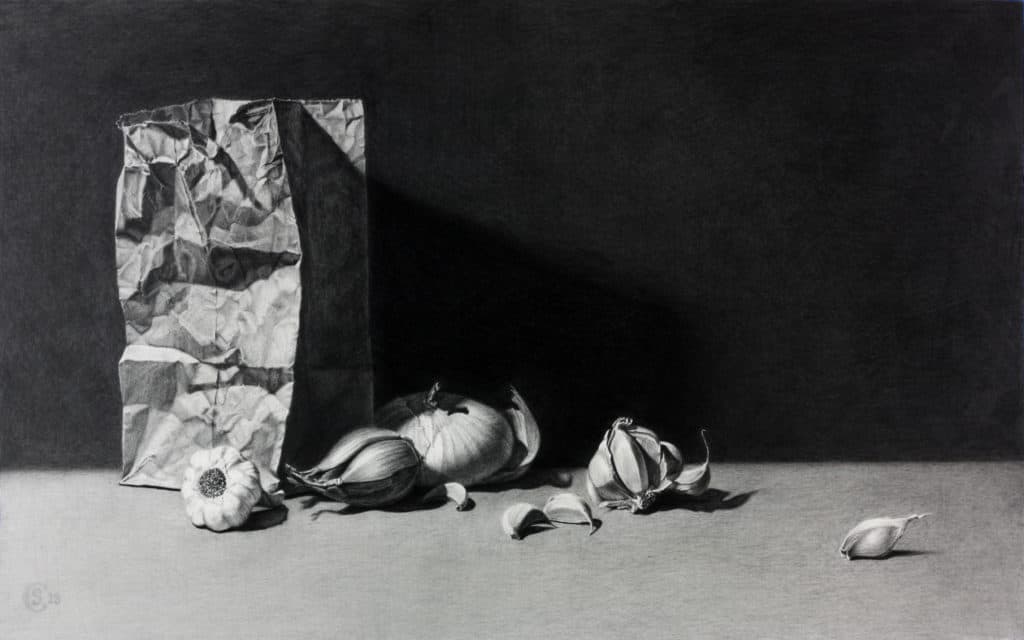 Layers, Segments, Persona (Ogres have layers) Graphite on paper 24"x18"
Where are you at in the process of focusing on "being" vs. "doing"?
I am discovering I have enough talent to make an image that will get some attention for a minute or two, produce a few pats on the back, and allow people to move on. This is a very comfortable place for me. If I work real hard I can get some recognition, feel good, and not have to get very deep with other people. The only problem is that I have been living most of my life like that and it has left me empty and searching. Ultimately, I would like to be able to connect and dialog with others and not make it about me but about Jesus. I am just starting to believe that the story I have may encourage others. God is asking me to tell my story in a way that is suited to me and not to worry about all the other stuff. "Be who I created you to be and everything else will take care of itself". God is helping me focus on what He has done and is doing in my life instead of what I'm producing.