THE PURSUIT
It was not a typical route for a run. I never saw anybody training for a race, or even breaking into a slow jog. But this route provided potential that only I could see.
The route started at my house and wove through the neighborhoods of Ocean Beach in San Diego. The sidewalks were incredibly uneven and the streets were narrow. I was constantly weaving back and forth around parked cars, pedestrians, and other obstacles. The route added a sizable hill that was easily avoidable. Unless you had other motives.
I had met Tatum once. A short and shallow conversation, yet completely captivating. The smile and laugh pointed to a deep joy that always felt amiss in my own life.
I was curious. Intrigued. I needed to know more.
I found out she lived relatively close to my house and the brainstorming began.
I ruled out driving by her house, as that felt closer to creepily peering in the windows than a casual coincidence. It is not a neighborhood you drive through to get to anywhere whatsoever.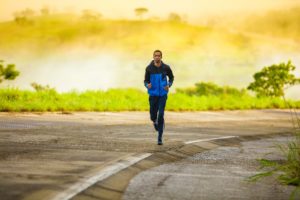 But setting a new goal for running? With a route that included segments along the ocean (which justifies the randomness)? Done. I created the possibility for encounter.
What are the odds Tatum would need to take the garbage out precisely at the moment my run crossed her peripheral vision? Maybe she would pull into her driveway and see the gazelle-like motion out the side window. Was there a dog that needed a walk? I was open to God's creativity.
I found out the odds were miniscule. Regardless of the time I ran past; absolutely nothing. 
Luckily my added layers of stalking "creating opportunity for encounter", mainly networking with every acquaintance I had, were successful. And we just celebrated 13 years of marriage.
DOES IT WORK WITH GOD?
What if we embraced the fact there is a loving God who will go to any length, including death on a cross, to redeem and rescue us? What if we grasped what that meant about the character of God and our value in His eyes?
Why would we not do whatever it takes to have a relationship with Him? Why are we not willing to utilize the same creepy creative and relentless edge that allowed me to finally make a connection with Tatum?
Maybe it is waking up earlier, or guarding 15 minutes in the middle of the day. Maybe it's exploring new locations or environments that allow us to be available to God. It looks different for each person, but the common necessity is sacrifice and consistency.
We often expect God to work with the small window we are willing to give. Or think a simple formula should create a dynamic relationship. Or assume it will just happen. I would not be married, or have any significant relationship, with that same mentality.
God has shown His desire to have a life-giving relationship with us. His pursuit and sacrifice is known.
Do we have the same desire to know Him? Will we go to crazy lengths, exhausting our creativity and courage, to encounter God?
If the desire is there, the pursuit will follow. The sacrifice will happen. The ingenuity will be engaged.
The question: do you desire to know God?